Earn Miles on All Vacation Packages
---
Go Beyond the Flight with Delta Vacations to discover new ways to earn bonus miles. Now SkyMiles® Members earn bonus miles, in addition to flight miles, on every vacation package. And get to Medallion Status faster through the end of the year by earning up to 75% more toward Status on Delta flights.

 
Bonus Miles with Every Package: 
---
| | |
| --- | --- |
| Package Price | Bonus Miles Earned (Per Person) |
| $10.000+ | 5.000 |
| 5.000-9.999 USD | 2.000 |
| FINO a 4.999 USD | 1.000 |
2022 Medallion® Status Accelerators:
---
Beginning April 1 through 31 dicembre 2021, earn 2022 Medallion Status Accelerators on Delta flights:*

*Applies on Delta-operated flights. Medallion Accelerator bonuses apply toward earning Medallion Status only and do not include redeemable miles.

 
Bonus Miles with Car Rentals:
---
| | |
| --- | --- |
| Car Rental Packages† | Bonus Miles Earned (Primary Driver) |
| Alamo® Rent a Car | 500 + additional 200 per day |
| National® Car Rental | 500 + additional 200 per day |
Bonus Miles when using your Delta SkyMiles® American Express Card to book your vacation package:
---
| | |
| --- | --- |
| Delta SkyMiles® American Express Card | Bonus Miles Earned (Per Dollar Spent on Card) |
| Delta SkyMiles® Gold American Express Card | 2 miles |
| Delta SkyMiles® Blue American Express Card | 2 miles |
| Carta Delta SkyMiles® Platinum di American Express | 3 miles |
| Delta SkyMiles® Reserve American Express Card | 3 miles |


Non sei socio SkyMiles? Join today.

†The SkyMiles number must be provided during pick up at the rental counter. The car must be rented in Member's name to earn mileage. Verranno accreditate miglia a un solo socio SkyMiles per ogni noleggio auto. Offer valid for rentals picked up at participating Alamo or National Car Rental locations in the United States and Canada. Le miglia saranno pubblicate nel conto 6-8 settimane dopo il completamento del noleggio idoneo.
 
---
The Delta SkyMiles® Program was named Best Travel Rewards Program by 
U.S. News® for 2019-2020.


Earn Bonus Miles with Every Package Terms and Conditions
Purchase any Delta Vacations package from any Delta Vacations origin in the U.S. or Canada to any Delta Vacations destination, up to 330 days before travel, for travel anytime.
Receive 1.000 bonus miles per qualified customer on bookings of up to $4.999; 2.000 bonus miles per qualified customer on bookings of $5,000 - $9.999; and 5.000 bonus miles per qualified customer on bookings of $10.000 or more.
Maximum of 5.000 bonus miles per qualified customer.
Qualified customer means individuals with a SkyMiles number included in the reservation. Infants under two years of age who travel on an infant fare are excluded. All qualified customers must be listed as guests and use the package travel components to qualify for bonus miles.
SkyMiles number must be added to the Delta Vacations booking to receive the bonus miles. Bonus miles will not be credited when the SkyMiles number is provided directly to the airline.
Bonus miles will be posted to Members' accounts within 6-8 weeks of completing qualifying travel. Miles will be posted as a bonus, and will not count toward Medallion® qualification.
Bonus miles are awarded for purchasing the following: flight and hotel stay, flight and hotel stay plus qualified car rental, flight and car, hotel and car, hotel and transfer, Ski Vacations and Globus family of brands, including Globus, Cosmos, Monograms and Avalon packages.
When providing a SkyMiles number, bonus miles will be awarded for Delta Vacations packages, including Delta flights, Delta-coded flights operated by the airline partners below, and flights coded and operated by the following airlines partners: vettore Delta Connection e voli Delta Shuttle, KLM Royal Dutch Airlines, Hawaiian Airlines, Aeromexico, Air France e Alitalia.
All tickets and documents must be issued by Delta Vacations.
All mileage and subsequent awards must be earned and used according to the terms and conditions of the SkyMiles Program.
Additional rules and restrictions may apply. Delta Vacations is the final authority on the interpretation of these rules.
Miles earned with car rentals and credit cards are subject to individual agreements with participating companies and vendors, and programs are subject to change without notice. See provider for details.
Sono in vigore tutte le regole del programma SkyMiles. To review the rules, please visit  delta.com/memberguide. Bonus miles do not count toward Medallion Status or Million Miler™ Status. Offerta soggetta a variazioni senza preavviso e ad eventuali limitazioni. le offerte non sono valide qualora proibite dalla legge.

Earn Toward Medallion Status Terms and Conditions
Bonus promozionali sulle miglia di qualificazione Medallion (MQM), sui segmenti di qualificazione Medallion (MQS) e sui dollari di qualificazione Medallion (MQD) sui voli commercializzati e operati da Delta:


Durata della promozione: April 1, 2021 – 31 dicembre 2021

Offerta: SkyMiles Members ("Members") will receive a 50% bonus of Medallion Qualification Miles ("MQMs"), Medallion Qualification Segments ("MQSs") and Medallion Qualification Dollars ("MQDs") on paid and Award Travel tickets booked in Basic Economy or Main Cabin on flights that are both marketed (flight number begins with 'DL') and operated by Delta, Delta Connection® carriers or Delta Shuttle® ("Delta Carriers") and are flown during the Promotional Period.

Members will receive a 75% bonus of MQMs, MQS and MQDs on paid and Award Travel tickets booked in a Delta Comfort+®, First Class, Delta Premium Select or Delta One® tickets booked in a Delta Comfort+®, First Class, Delta Premium Select or Delta One® ("Premium Cabins") on flights that are both marketed and operated by Delta and are flown during the Promotional Period. Travel that is booked before, but flown during, the Promotional Period is eligible for these bonuses. bonuses on qualifying flights flown between 1º aprile 2021 and 15 maggio 2021, may take until 31 maggio 2021 to appear in the Member's SkyMiles account.
Il periodo promozionale viene calcolato in base alla data di partenza del volo; i voli in partenza il 31 marzo 2021 (con arrivo il 1° aprile) non guadagneranno MQM, MQS e MQD, ma i voli in partenza il 31 dicembre 2021 con arrivo il 1º gennaio 2022 sì. La data di partenza del volo specifico è indicata sul biglietto.    
Solo le attività qualificanti (come definite di seguito) saranno idonee ai bonus. Il bonus è per MQM, MQS e MQD per raggiungere lo status Delta Medallion. Non sono previsti bonus per offerte sulle miglia spendibili.

Attività valida: Qualifying flight activity includes paid (retail) tickets, Award Tickets, Miles + Cash Tickets, Pay with Miles tickets, post-purchase upgrades and flights booked as a part of a Delta Vacations® package, but does not include travel on partner airlines (even if marketed by Delta), exception fares(not including Delta Vacations), or Award redemptions or purchases of non-air products and fees. Se una parte dell'itinerario include sia viaggi con Delta sia con una compagnia aerea partner di Delta, i soci guadagneranno bonus solo sui segmenti operati e commercializzati da Delta. I bonus saranno applicati in base alla cabina che viene acquistata e utilizzata. Gli upgrade gratuiti di qualsiasi tipo non danno diritto al bonus delle cabine premium. Se un socio utilizza un certificato di upgrade, riceve un upgrade gratuito da un biglietto in Main Cabin acquistato a una cabina premium, acquista un upgrade offerto al check-in o al gate, oppure riceve un upgrade operativo, il socio non guadagnerà il bonus cabina premium. Companions traveling on American Express Companion Certificates are not eligible to earn MQMs, MQS or MQDs, but the paid ticket of the certificate holder will.

RAGGIUNGERE LO STATUS MEDALLION: For purposes of MQM or MQD credit, "distance flown" means the calculated distance between origin and destination, as determined by Delta in its sole discretion, regardless of the actual distance traveled on any individual flight. MQMs, MQSs and MQDs are earned by the Member who is flying, regardless of who booked or redeemed miles for the ticket and are awarded after the ticket is flown. I biglietti gratuiti, cambio merce, pass travel e altri biglietti non validi per l'accumulo di miglia non permetteranno di guadagnare MQM, MQS o MQD. Il bonus non si applica alle miglia spendibili. Le MQM bonus contano ai fini dello status Million MilerTM dei soci, del rinnovo MQM, oltre alle promozioni e alle sfide che regalano lo status Medallion.

Miglia di qualificazione Medallion: Medallion Qualification Miles (MQMs) earned through flight activity on Delta are calculated based on distance flown and fare class purchased –promotional bonuses will be applied to this amount. Prior to the bonus being applied, flights and itineraries eligible for MQMs, including Award Travel tickets, will earn a minimum of 500 MQMs per segment. Se viene acquistato un upgrade, i bonus si applicano alla cabina utilizzata. Il bonus non si applica alle MQM guadagnate con carte di credito Delta SkyMiles American Express idonee, tra cui Status Boost o MQM nell'ambito di un'offerta di benvenuto.

 

Segmenti di qualificazione Medallion: All fare classes eligible to earn MQMs count toward MQSs. One (1) MQS will be awarded for each segment of your trip on Delta. During the promotional period, either a 50% or a 75% bonus will be applied to each segment, depending on the cabin flown on a qualifying flight. I segmenti parziali non figureranno nell'attività del conto del Socio; gli MQS bonus saranno accreditati sul conto del Socio su base continuativa durante il Periodo promozionale, una volta che il Socio ha volato abbastanza da equivalere a un (1) MQS bonus intero. Nel momento in cui i segmenti base vengono guadagnati, i segmenti di bonus aggiuntivi potrebbero non apparire nel conto di un socio poiché i segmenti di bonus per attività di volo valide saranno accreditati su conti su base continuativa durante il periodo promozionale, il conto non oltre il giorno successivo al segmento di volo effettuato che ha contribuito a raggiungere un (1) segmento di bonus intero. Alla fine dell'anno solare 2021, qualsiasi segmento parziale sarà arrotondato al numero intero successivo e sarà accreditato al Socio per avere diritto allo status Medallion 2022.

 

Dollari di qualificazione Medallion: MQDs are the sum totalof the Member's spend on Delta-marketed flights, inclusive of the base fare and carrier-imposed surcharges, but exclusive of government-imposed taxes and fees –either a 50% or 75% bonus will be applied to this amount based on the cabin flown. Gli MQD guadagnati viaggiando su un volo prenotato come parte di un pacchetto Delta Vacations® equivalgono a un quinto della distanza percorsa dal volo e della classe tariffaria acquistata (quando applicabile) guadagnate sull'itinerario. All other ancillary purchases or fees including but not limited to checked baggage fees, Priority Boarding, Delta Sky Club® memberships, Wi-Fi passes, in-flight food and beverage purchases, in-flight entertainment, unaccompanied minor fees, pet travel fees, Mileage Booster™ or mileage purchases, ticket change fees, Direct Ticketing Charge (DTC), same-day confirmed or standby fees, Administrative Service Charge (ASC), and External Reissue Charge (ERC), do not count toward earning MQDs.
Learn more about MQMs, MQSs and MQDs.

Post-Purchase Upgrades: The bonus will be awarded based on the cabin that is both purchased and flown. Se il tuo acquisto originale è in Main Cabin e successivamente acquisti un upgrade con contanti o miglia, i bonus a MQM, MQS e MQD saranno applicati in base alla cabina premium del volo. Le MQM saranno calcolate sulla distanza percorsa e sulla classe tariffaria acquistata e volata, indipendentemente dal fatto che l'upgrade sia acquistato con contanti o miglia. Gli MQD per le miglia riscattate per un upgrade dopo l'acquisto sono calcolati in base alle miglia riscattate per l'upgrade diviso per 100. I soci guadagneranno il 75% di MQD bonus sia sul biglietto d'acquisto originale che sull'importo pagato per l'upgrade.

Skymiles: si applicano tutte le regole del programma SkyMiles all'iscrizione al programma SkyMiles, alle miglia, alle offerte, all'accumulo o alla riscossione delle miglia, nonché alle agevolazioni di viaggio. Per consultare le regole, visita delta.com/memberguide.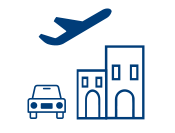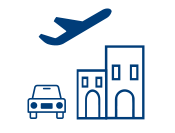 ALL IN ONE
The best vacation packages
designed for SkyMiles® Members.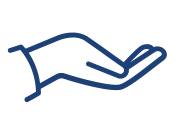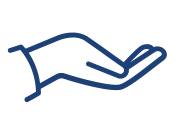 24/7 CARE
Experience a new standard of care and award-winning support and service —
whenever you need it.